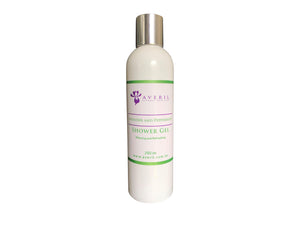 Lavender and Peppermint Shower Gel (Refreshing and Relaxing)
Regular price $15.00 Sale
or make 4 interest-free payments of $3.75 AUD fortnightly with
More info
 Lavender and Peppermint Shower Gel 250ml
Short Description:
This refreshing and relaxing shower gel has been formulated to cleanse and nurture your skin. With a blend of premium oils, including pure Peppermint Oil and Lavender, it leaves your skin feeling rejuvenated, cleansed and clean.
The Benefits:
Hydrate and awaken your skin with our Lavender and Peppermint Shower Gel. Perfect for all skin types and gentle enough for the entire family to use.
Add a dollop to your bath for a deeply relaxing experience, that will support aching muscles whilst also nourishing your skin, keeping it smooth and soft.
For best results use in combination with Averil Natural Skin Care Lavender and Peppermint Shampoo and Conditioner.
Free from SLS, Paraben and Palm Oil. No animal testing. Vegan friendly.
Perfect For: All skin types.
Ingredients: Purified aqua, Decyl Glucoside, Cocamidopropyl Betaine, Glycerine, Xanthan Gum, Citric Acid, Ethylhexylglycerin, Phenoxyethanol. Lavender and Peppermint Essential Oils.
Questions?
Please don't hesitate to contact our skincare team here.