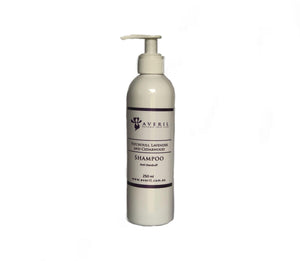 Averil Patchouli, Lavender and Cedarwood Shampoo (Anti-Dandruff)
Regular price $15.00 Sale
Patchouli, Lavender and Cedarwood Shampoo 250ml
Short Description:
A lightly scented and decadent mix of plant-based, natural ingredients and premium essential oils, formulated in our rich, revitalising and low lathering shampoo to nourish your hair. The premium essential oil blend has been designed to assist with dermatitis, eczema and psoriasis.
Cleanse and hydrate without stripping your hair of its natural oils or irritating your scalp. Our Patchouli, Lavender and Cedarwood Shampoo deliver a beautifully lightweight cleanse, whilst bringing balance to your hair and scalp.
The Benefits:
This natural shampoo is perfect for those with dry hair and dandruff or psoriasis complaints. With an infusion of Patchouli, Lavender and Cedarwood, it gently cleanses your hair and hydrates your scalp, removing any dry skin. To avoid stripping the hair of its natural oils, all our shampoos have a natural low lathering foam.
For best results use Averil Natural Skin Care Patchouli, Lavender and Cedarwood Conditioner.
Free from SLS, Paraben and Palm Oil. No animal testing. Vegan friendly.
Perfect For: Dandruff Psoriasis
Ingredients: Purified aqua, Decyl Glucoside, Cocamidopropyl Betaine, Glycerine, Xanthan Gum, Citric Acid, Ethylhexylglycerin, Phenoxyethanol. Patchouli, Lavender and Cedarwood Essential Oils.
Questions?
Please don't hesitate to contact our hair care team here.