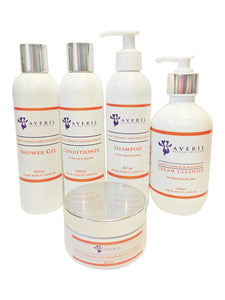 Averil Sweet Orange and Mandarin Range (Normal to Oily Skin and Hair)
Regular price $96.95 Sale
or make 4 interest-free payments of $24.24 AUD fortnightly with
More info
Sweet Orange and Mandarin Range Great for Normal to Oily Skin and Hair
These products will suit any skin type but are especially helpful for people with oily skin and hair.  Teenagers may find it helps with excess oil.  Adults blessed with a healthy oil flow well also enjoy using this product range.  Lovely fresh light smell.
Features:
All SLS, Paraben and Palm Oil Free. Handmade with Love In Australia.  No Animal Testing. Vegan Friendly.
Inclusions:
Sweet Orange and Mandarin Shampoo, Shower Gel, Conditioner and Face Cream.  Great product range for Normal to Oily Skin and Hair. Citrus Oils soothe a restless Soul.  For the teenagers in your household who enjoy an excessive oil flow, this may be a more natural solution.