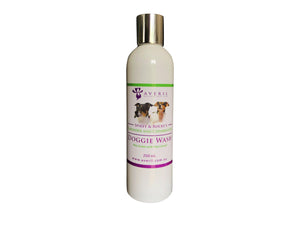 Spikey and Rocky's Natural Doggie Wash
Regular price $20.00 Sale
or make 4 interest-free payments of $5.00 AUD fortnightly with
More info
 Spikey and Rocky's Natural Dog Wash
Short Description:
Our Natural Dog Wash is the perfect companion when it comes time to clean your pooch. Handcrafted with pure Lavender and Cedarwood oil, it's a gentle, low foaming wash that will leave your dog smelling heavenly.
The Benefits:
If your dog has sensitive skin or suffers from skin issues, our wonderfully natural Dog Wash with Lavender and Cedarwood is the perfect alternative to harsh store-bought shampoos. Also suitable for dogs without skin conditions, Spikey and Rocky's Natural Dog Wash will give your dog's coat a thorough clean, leaving them soft and silky whilst also removing any bacteria or fleas.
Free from SLS, Paraben and Palm Oil. No animal testing. Vegan friendly.
Suitable For:  All dogs. Dogs with sensitive skin. Not to be used for washing cats. 
 Ingredients: Purified Aqua, Decyl Glucoside, Cocamidopropyl Betaine, Glycerine, Xanthan Gum, Citric Acid, Ethylhexylglycerin, Phenoxyethanol. Lavender and Cedarwood. Essential Oils. 
Questions?
Please don't hesitate to contact our customer care team here.